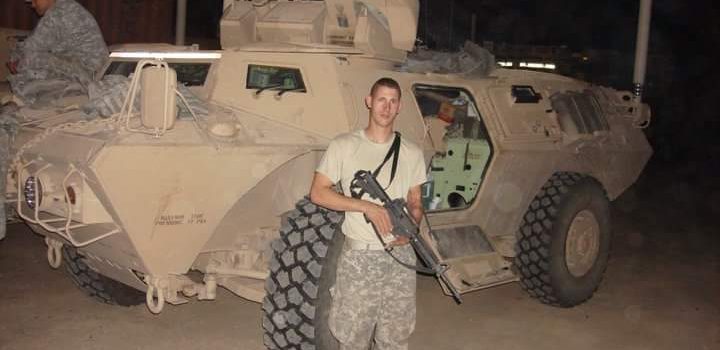 This week we've learned of some awesome and courageous veterans and heroes, but today we share the story of a veteran who, a few...
This week we've learned of some awesome and courageous veterans and heroes, but today we share the story of a veteran who, a few days ago, did something truly amazing. Something that simply left us speechless and assured that humankindness is not just a marketing phrase. He is a true ModernJeeper.
– The Editors
---
Matthew Pyles
Matthew Pyles joined the United States Army in 1999. Following a family tradition, Matthew saw service as a way to help people in need. Not only while in service but, with the great characteristics the military instilled him, for a long time afterward.
ModernJeeper learned about Matthew through our friends at Metalcloak who were, and currently are, trying to raise money through a GoFundMe for a Paradise Police Officer and his family. But more about that later.
We were honored to interview Matthew. This is his story.
How old were you when you joined the Army? – I was 17
How long did you serve? – From 1999 to 2013
What was your MOS? – 12 Bravo 20 Combat Engineer (SAPPER) Sergeant
What campaigns were you a part of? – I was a part of the surge from 2007 to 2008 in Iraq. I also served in Joint Task Force Quetzel New Horizons in Central and South America doing security operations.
What parts of the world did you see? – The United States, Central and South America, all of Europe and the Middle East.
What was your favorite part of serving? – Instructing Mixed Martial Arts and being a leader.
What was the thing you liked the least? – All the politics and the hurry up and wait.
Favorite memory? – Being stationed in Germany with my buddy Mike Ausdal drinking Rauchbier – it's a smoked bacon flavored beer – and traveling to the Van Gogh museum in Amsterdam and visiting the Anne Frank House.
Favorite story you like to share? – There are many but not very appropriate for the public. My current favorite story is the one where I donated my Jeep wrangler TJ to a police officer in the California fires. [more about that later]
After the military you became a chef. When did you go to culinary school? – I went to culinary school from 2014 to 2016 at the Art Institute of Chicago, Cincinnati Campus.
What inspired you to become a chef? – I studied food throughout my career in the military in France and Italy – well pretty much all of Europe. Plus on the weekends I cooked for all my buddies in Germany… and I had been using cooking as a tactic throughout my younger years to get dates with women! One day it worked and I am now married to that woman.
You had a chance to serve as a military contractor as a chef. How long did you do that? Just about 6 months and it was dangerous in the undisclosed location I was in.
What was your favorite part about being a contractor? – The money!
What did you like the least about it? – Too many closed minded toxic people.
You suffer from PTSD, can you discuss what incident caused that? There are many incidents throughout my career that caused my PTSD. I can share one with everyone, and that was January 31st 2008… I had been resting after a mission in Scania, Iraq when insurgents decided to shoot a Chinese rocket at a TOC (Tactical Operating Command) post for the 82nd Airborne. They hit an ammo holding area next door and a few soldiers were killed during the incident. It was so close we all could have been killed.
Yet there were many close calls from roadside bombs and mortar attacks — small arms fire being in an up armored vehicle was kind of a joke at times. You learn to laugh off almost dying in such a terrible place but you never become complacent and you always stayed vigilant.
Is there anything you can share about your experience with PTSD? – FIND A PURPOSE, KNOW THE WORLD DOESN'T OWE YOU A DAMN THING!!!!! It took me close to 6 years to pull my head out of my four point of contact (my behind) and really buckle down and get help. Speak up call your brothers do not shame anyone for crying out for help, because one day we all will need help at some point. Your never too tough to get help. Yes this sounds very clique but its true – the sooner you realize you're hurting yourself and others around you the sooner you can stop and get help, LISTEN to your family if they say hey GO GET HELP.
Have a hobby (finding a purpose) it can be anything that can help you focus on one thing for a period of time. I build jeeps from pre-fab parts from companies like MetalCloak it has helped me to keep my PTSD at bay. FYI PTSD is anxiety, depression and suicidal thoughts it isn't lashing out and killing everyone – it is a battle in oneself that creates destructive behavior in yourself that then affects everyone around you.
You are back stateside now. Lets talk Jeeps.
What was your first Jeep? How old were you? – My first jeep was a 1999 Jeep Wrangler 4.0LT Sport 5 Speed. I was 27 years old and I was sick of the Japanese car scene. I had a Honda Civic Hatchback 2004 and you couldn't race or drift legally in Ohio so I needed to fulfill my need for adrenaline with something. Going nowhere at 3 miles per hour did the trick.
Did you grow up off roading? Yes, my step father David Pyles exposed me at a very young age I was about 7 years old.
What kind of jeeping do you like to do? Rock Crawling? Overlanding? I love both. Jeeping has been very therapeutic to me and has helped me process the loss of my brothers in arms and also assisted me with my PTSD, so depending on my mood I do either one.
You currently have two Jeeps, tell us about them? Well my first ever Jeep I have been building since, I believe, 2009. I traded a Honda for it. It is a 1999 Jeep Wrangler 4.0LT Sport. It was bone stock when I got it from a used dealership that was local to where I was living. It had one owner – a 17 year old kid that his parents got for him. I have transitioned that Jeep over the years into what it is today, but it is finding a new home soon to a very deserving person that I have upmost respect for.
The second Jeep I have is a 2018 Jeep Wrangler JL Rubicon It has a 2 inch Mopar lift and 37X12.50R17 Nitto Trail Grapplers and 17X9 Method Racing simulated copper beadlock wheels.
Recently you did something amazing helping a fellow ModernJeeper in need. In you own words, can you tell our readers what you did and why you did it? – I just donated my first ever Jeep to Police Officer Rob Nichols in Paradise, California. [Editors note: Paradise, California recently was literally burned off the map by the now infamous & deadly CAMP fire.]
I know what its like to lose everything and needing a purpose to go out an do your job even after losing it all and so I wanted to give Officer Nichols that very thing because he lost his Jeep in the fire. For him and his family to know that he has a fellow retired brother in arms looking out for him because people do care. I Wanted to set a great example of what we should be doing as a society in a whole instead of all the chaos that has been going on in this world.
We need to help our neighbors, check in on them maybe give them a few bucks to help with gas money for them to get to work. I am saddened coming home to a quarreling country, I have seen death and destruction and mayhem in my military career and America one of the greatest nations in the world, I see it having too many negatives going on.
We have one life to live we need to start to set the right examples so everyone can start to pay it forward instead of taking two steps back. I joined the military because I love my country and everyone in it even if I don't see eye to eye with someone.
How did you learn about the Paradise Police Officer? – Instagram while following Metalcloak [Metalcloak posted about Officer Nichols and his lost jeep and their GoFundMe campaign on Instagram]
Have you been in contact with the family since making the offer?  – Yes. Officer Nichols is at a loss for words so I talked up the jeep and to his wife as well and they cannot believe I am doing this. But I believe this to be the right thing to do.
What was their reaction? – I heard some sobbing but mostly joy from them.
You truly are an amazing human being. Anything else you would like to add? – I do not think I am amazing. I think I just care and wear my heart on my sleeve at times even if people think I'm this hardened combat veteran.
Thank you for hearing my story and please go donate to Officer Nichols family GoFundMe.
---
Rob Nichols and His Family
We Salute SGT Matthew Pyles and his Blessed support of Rob Nichols and his family with the donation of his Jeep TJ. For the full story of what happened to the Nichols Family, visit the GoFundMe created by Metalcloak's Matson Breakey and read the letter sent to him by Jenifer Nichols, Rob's wife.
All monies raised on the GoFundMe are now being used to directly buy much needed supplies for other victims of the Paradise fires.
####