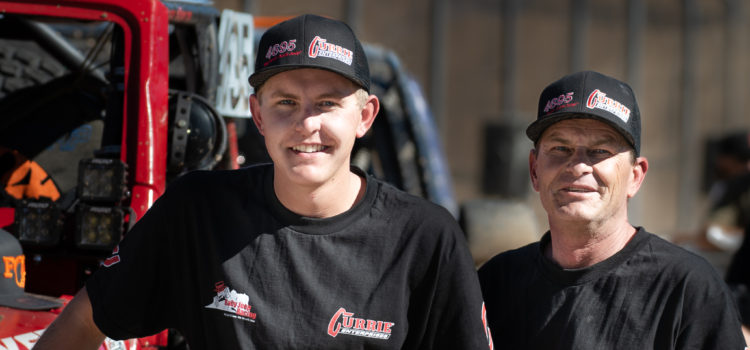 Dawson Allington is a true ModernJeeper. Driver of #4695 "The Rock Jock Jeep" Dawson dominated the Stock Class in his very first year racing...
Dawson Allington is a true ModernJeeper. Driver of #4695 "The Rock Jock Jeep" Dawson dominated the Stock Class in his very first year racing the Ultra4 Series including a second place finish at the 2018 King of the Hammers Everyman Challenge.
We had a chance to touch base with Dawson about his 2018 season and learned, as many of his fans did, that he had recently gone through brain surgery to remove a massive tumor — and the GoFundMe campaign to help pay for this life threatening experience.
– The Editors
---
Dawson, congratulations on a great 2018 season in the 4600 class. Your dad is your co-driver right? How much work do you put him through?  Quite a bit he works his butt off in the Jeep navigating, pulling winch line, getting out and spotting for me. All sorts of things during the race and even after the race he continues to work hard.
You had a chance to build a Jeep, but decided to acquire a proven rig from Ben Varozza and Jacob Pacheco. Why go that route?  Because I wanted to be successful in my racing career. So, I chose to to purchase a proven Jeep.
Were you and your dad Jeepers before? Doing rock crawling or overlanding? Or was rock racing your first dive into the Jeep lifestyle?  We were, I bought my first Jeep when I was 15 and that's when we started getting into the Jeep lifestyle.
So lets talk about the 2018 Season… First up King of the Hammers… Was KOH 2018 your first Every Man Challenge Race?  Yes, First race experience ever.
How did it go? Were you prepared for it? What were your major obstacles to finishing the race?  I thought I was, definitely under estimated the Hammers. Didn't think it was going to be as rough as it was. I am looking forward to 2019 KOH
What was your finish time? I timed out at the last check point by 5 minutes. So , unfortunately I didn't get to be an official finisher I feel very accomplished in getting there and getting to race at all
After KOH, you next race was the Metalcloak Stampede. What did you think of the course at Prairie City?  It was amazing!! I love the feel of the short course. It was a lot faster than other races.
Tell us a little about racing in short course style?  It was a lot faster than hammers. The gap jump on the front straight away was awesome. I had my dad calling out my speed as I came around the corner so I didn't over jump and blow out the next right turn .
You got first place there, how did it feel to not only podium but get 1st place right out of the box?  Amazing!! I get butterflies to this day thinking about!
Next was the Holley EFI Clash at Cross Bar. Tell us about that experience… how is it different from Stampede?  Very different. But that's what I love about Ultra 4 racing it's extremely diverse. They had it split into to" Loop's"an A and a B.  Oklahoma was set up more as a long course track as Stampede is a short course with 6 laps per heat vs Oklahoma with A & B loops.
A being the fast loop and B being the technical rock crawling loop. The stock class ran the A-B-A  to the finish line. The rest of the EMC classes ran A-B-A-B to the finish line.
Oklahoma was very hot and humid, this also was challenging being in full race suit and helmet, keeping hydrated and having your head in the race when you are so hot & uncomfortable while racing. I think we were able to overcome the challenges this race presented, we finished the race at approximately 11:00 am on Saturday, with a second place finish, we were packed up and on the road headed home by roughly 2:00 pm, we had a 22 hour drive, so that we could make it to work on Monday morning.
In qualifying you got the fastest time, right? We heard there was quite a reaction to that?  Yes, I had a 2:25.8 in the next fastest time was 2:27.4 in the 4600 class. I was 24.5 secs slower the the fastest 4400 car #5AZ! [Shannon Campbell]
I didn't think I was going to do so well in qualifying, they just ran us on the short course part of the track, do to the fact that my jeep is set up for long course not short course, I surprised myself at dropping the fastest time. Apparently, I shocked everyone else too.
You ended up in second place, was it a close finish?  No, I came in 15 mins after the first finisher. I was trying to make up time after a flat tire and tipping the jeep on its side, but thanks to a 4800 car for helping us get back on all four, we were able to secure a second place finish just three minutes ahead of third place.
By now, after three races, you are racking up the championship points… were you monitoring that, or just taking it one race at a time?  No I was just racing, that is all I was thinking about. Just racing.
The last race of the Western Series was the Rigid Rampage, which had an extra wrench thrown in as a night race. Were you prepared for that? Whose lights are you running?  Not only with it being a night race, but we ran after the 4400 class, so the ruts got a lot deeper than when we were pre-running and qualifying, our diffs were dragging because we are on 35's not 40's like the unlimited class. The 4400's uncovered rocks which added to the unknown, constantly changing track and add in that visibility was minimal at best with complete darkness and dust.
 We ran Rigid Industries lights. We prepared with four extra lights per side on the front of the jeep. 
What was the race like? How did it differ for you and your dad from previous races?  Rigid Rampage was different in that we start the race approximately 9:30 pm it was completely dark. We could not rely on our sight, it was all GPS to get us around the track.
You podium-ed again getting third place. Tell us about excitement of three races and three podium finishes.  It was very rewarding to be able to come out the gate swinging like I did. I had always dreamt of doing that well but didn't think it would be my reality. 
The final race of the season was the Nitto National Championships at Reno's Wild West Motorsports Park. Did you have to qualify? How did that go?  Yes, we were able to get the second fastest qualifying time.
How does the 4600 course there differ from, say, the 4400 class?  Oh a lot, the 4600 course I would say is cut in half compared to the 4400 course, because, we lack the horse power to make it up the big hill that the 4400's have to traverse. 
Were you leading in Championship points entering into that race?  Yes, I was. I knew all I needed wast to finish well, but I found myself up front early  in the race, and figured why not go for the win. 
You got first place in that race, how many cars were in the 4600 class and tell us a little about that main event.  I believe there was 9 cars in the main. Not much to say, just like any other race for us. Everything went smoothly. 
You walked away with three total trophies in Reno, tell our readers what the other two were and which one you are most proud of.  The first trophy we acquired that weekend was the race win. the other 2 were 1st Place trophy for Western Series Championship and 1st Place National Championship.
I would say I am proud of the national trophy. It represents the relationships I have built this last year and season filled with a lot of hard work.
Anyone you would like to thank for supporting you this season?  First and foremost my parents, the rest of my family, my sponsors; Currie Enterprises came on board with their Rock Jock Brand for the race in Reno, Nevada. Falken Tire, and Sierra Gear and Axle out of Rancho Cordova, California, and Cleggs Engine and Machine out of Orem, Utah.
What are your plans for 2019?  I will be racing the Western Series in Ultra 4, including King of the Hammers. I will also be at EJS 2019, and am hoping to finish my Jeep wrangler project and get it to Lake Tahoe to visit the Rubicon trail and a few others out their that are on my bucket list. 
Thank you Dawson for your time, I know you have a major medical procedure coming up, anything you wish to share with our readers? I know the entire racing community is praying for a speedy recovery.  Well I didn't get to these questions in time which I apologize for taking so long, but as of now I am a month out of having brain surgery [support Dawson here], I had a brain tumor that needed to be removed before it grew to the point of causing major problems. everything went well and I am in recovery — will be for the next month. I will be working hard to get back in The Rock Jock Jeep (my Race Jeep) for the annual Ultra 4 Racing King of the Hammers in February. 
####