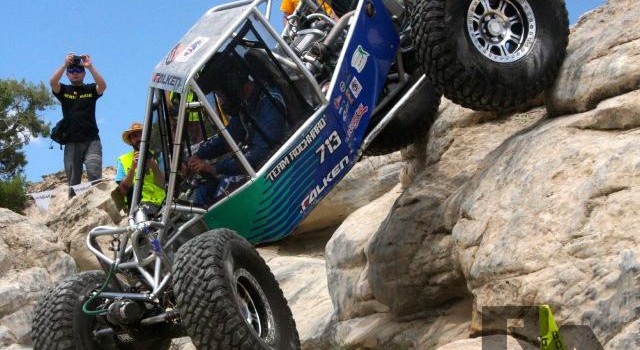 Class Champions Include: Justin Hall, Kevin Reimer, Jason Kaminsky, Branden Blume Justin Hall W.E. Rock held seven events across the country in 2015 with an...
Class Champions Include: Justin Hall, Kevin Reimer, Jason Kaminsky, Branden Blume



Justin Hall
W.E. Rock held seven events across the country in 2015 with an increase in participation in all categories, especially in the Western Series.  There were new cars built specifically for rock crawling and some that changed hands just in time to hit the first event.  "We have a core group of competitors that make W.E. Rock what it is today, and then we were really excited to see the new series drivers and the significant increase in the local drivers that came out to test their skills in 2015," said Rich Klein, President and founder of W.E. Rock Events.  "We have another significant group of new drivers and cars being prepped for the inaugural event of 2016 in Congress. This year we will be hosting 4 events in each series instead of 3 as in the previous years."
2015 started at one of our favorite rockcrawling courses, Thompson's Ranch in Congress, Arizona.  With 29 competitors taking on the dramatic rocks, killer climbs and awesome drop offs, the crowd was entertained from start to finish in the one-day crawl.   Matt Heimsoth was the only one to take the 12-foot drop-off that has seen thousands of views from videos posted to the web.  He ended up 3rd in the Unlimited Class.  Justin Hall with his dad Mark Hall spotting, took 2nd and Justin Keilman with Jason Jordan spotting took the Unlimited Class win.  In the Pro Mod class, the finishes were Kevin Reimer in 1st, Shawn McNearney in 2nd and Denis Volkov in 3rd.  Jason Kaminsky took home the win in the Mod Stock Class and local favorite Bruce "BZ" Zeller was the champion in the Sportsman A class.  Vince Massi took the win in the Sportsman C class against 9 other local competitors.  As always, it was a great competition with a huge spectator crowd cheering on the drivers. www.werocklive.com/2015/w-e-rock-western-series-round-1-congress-az
The Western Series continued on to Rangely, Colorado at the Rangely ORV Park managed by BLM, in Mid-June with another group of 29 competitors.  The great class of competitors saw Justin Hall take the championship by a mere 5 points after some mishaps on the first day, followed by Olivia Messerwith spotter Chris Poblano in 2nd, and Todd Young with Tate Elquist following in 3rd.  The ProMod class saw Kevin Reimer take the win from Masa Tsuda and Ryotaro Okamoto from Japan with an outstanding performance in the Shootout.  Sportsman A class had eight competitors where Tim Brown took the win followed by Chris Mercer and Justin Hutchinson.  Sportsman C featured 6 local drivers with Nate Hurst taking the win, Bryce Santy in 2nd and Tyler Spencer with 3rd.  Jason Kaminsky took home the Mod Stock trophy. www.werocklive.com/2015/w-e-rock-western-series-round-1-congress-az

Kevin Reimer
The final Western Series event was in Goldendale, Washington.  Not a particular favorite with the travelling competitors due to the distance, but huge with the hometown crowd.  Thirty-six competitors took on the volcanic rock and dust in the bowl at Broken Boulder Farm.  Standing atop the podium for the first time in his eleven year W.E. Rock career was Todd Young and Tate Elquist.  Justin Hall followed him in 2nd, and at 6 points behind Jesse Haines saw his first podium of the year in 3rd.  Masa Tsudatook the win back from Kevin Reimer in ProMod with Shawn McNearney in 3rd.  Jason Kaminsky again took home the Mod Stock win.  The Sportsman classes were full with James Treacy taking the win in Sportsman A, Rob Dufault from Canada was 2nd and Cody Gabriel was 3rd.  Sportsman C saw Jeremy Sodorff take the championship the second year in a row followed by Holly Erlandsen and John Swink. www.werocklive.com/2015/w-e-rock-western-series-round-3-goldendale-wa-2
When placing the points for all three events together, Justin and Mark Hall from California took the Unlimited Class Western Season Points win, with Justin Keilman from Arizona in 2nd and  Jesse Haines from Nevada in 3rd.  Notably, 15 year-old Olivia Messer, in her second year competing, was 3 points behind in 4th, and her dad Trail-Gear's Matt Messer was 2 points behind her in 5th place.  Kevin Reimer finished 1st in the ProMod class and Jason Kaminsky in the Mod Stock class. www.werocklive.com/2015/2015-w-e-rock-points-standing
The Eastern Rock crawls found their way back to Rausch Creek, Pennsylvania for the first event of the year, battling weather and extremely low temperatures, nineteen teams took the course.  A large contingent from the northeast led by Josh Jordan and Joe Pierce brought a variety of rigs out to compete.  The Unlimited class saw Carl Shortridge with spotter Mike Fox take the win followed by Dean Benner in 2nd and Josh Jordan in 3rd.  ProMod had Branden Blume with spotter Kyle Bruso in 1st, Danny Rohrer in 2nd and new team from Wisconsin, Darryl Sundin in his rockcrawling debut taking 3rd.  Jeff Cameron won the Sportsman A class and Ron Lind won the Sportsman C class.  www.werocklive.com/2015/w-e-rock-eastern-series-round-1-tremont-pa

Jason Kaminsky
The second event for the Eastern Series was at the Badlands in Attica, Indiana during their UMC event. The UMC event is a three-day motorsports event composed of an Ultra4 Racing qualifier, Monster Trucks and Rock Crawling that provides entertainment to the myriad of crowds coming to town for the event. With a shorter driver list than normal, the drivers decided to run 11 obstacles instead of the standard 8 for two full days of competition and lead changes after almost every obstacle. After the final shootout on Sunday, Danny Rohrer took 1st place by a mere 3 points over Branden Blume and Dale Unnerstahl won the Sportsman A class. www.werocklive.com/2015/w-e-rock-eastern-series-round-2-attica-in
Arbuckle Offroad Park hosted the third event in southern Oklahoma. A new venue, there was a one-day rock crawl on Saturday followed by a Dirt Riot Central series race on Sunday. ProMod saw Branden Blume take his second top podium finish of the year with Tom Campbell winning the Unlimited class. Driver Scott Angell won the Mod Stock championship in the #26 car of Duane Garretson, and Sportsman A had Frank Vonderheide with the win, followed by Jake Good in 2nd and Terrell Gauny in 3rd. www.werocklive.com/2015/w-e-rock-eastern-round-3-mill-creek-ok
The final event of the W.E. Rock Rock Crawling season is the Grand National Championship Rock Crawl where the Western Series drivers meet the Eastern Series drivers. This year, it was held at Katemcy Rocks (K2) near Mason, Texas. For the first event there, the rocks were fantastic, and the teams were challenged. Teams from all over the country travelled to the Texas Hill Country to compete for the National Championship Title. In the ProMod division, Branden Blume put himself back on top, not the first time for this young man from Arkansas. Masa Tsuda of Japan placed 2nd, and Aaron Sykes from California placed 3rd in his only competition of the year. Unlimited class saw Justin Keilman with spotter Jody Everding of Arizona/California take the Championship, followed by Jesse Haines from Nevada in 2nd and Justin Hall, also of California in 3rd place. Scott Angell from Kansas, again took the first place trophy in Mod Stock. Dale Unnerstahl of Missouri took the win in the Sportsman A class followed by Charlie Vacha of Arizona. And the first ever UTV rock crawling champion was crowned, Terrell Gauny of Texas took home the win. www.werocklive.com/2015/w-e-rock-2015-grand-nationals

Branden Blume
As the rock crawling season is about to begin again for 2016, the season has been expanded to include 4 locations each on the east and west with the final event, Grand Nationals to be held in Farmington, New Mexico. At each event, local rock crawling participants are welcome to join the competitive action, or are sought out to help be judges and volunteer recovery personnel. New for 2016, there will be an addition of a UTV class that will have challenging, yet do-able, rock courses for the UTV drivers to test their rock crawling skills and techniques.
See the full schedule of upcoming events: www.werocklive.com/events.