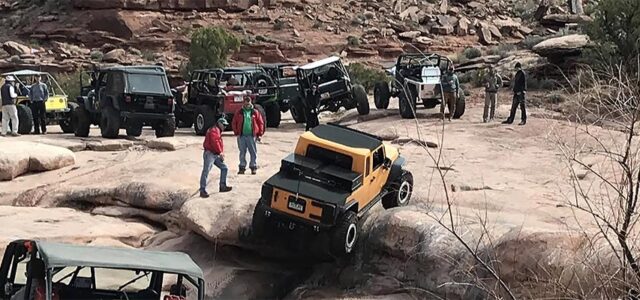 This story has two purposes…  First, to let you know that we still have a few slots left in our upcoming May trip to...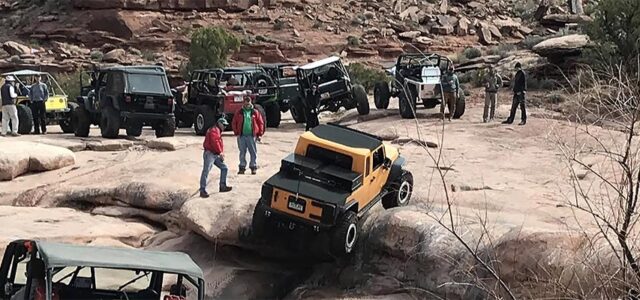 This story has two purposes… 
First, to let you know that we still have a few slots left in our upcoming May trip to Moab with the elite ModernJeeper Adventures crew; and second, to thank the Red Rock 4Wheelers and all their supporters for helping us keep Moab the mecca of four-wheeling and Jeeping.
Why go with ModernJeeper to Moab?
If you do Easter Jeep Safari you know how busy Moab gets.  Fun?  Yes.  But do you get quality time on the trails?  Not likely.
Do you like to have a guided, narrated, catered trip so all you have to do is focus on driving your Jeep and having fun?
Do you prefer small groups of Jeeps doing awesome trails with a personal touch from your hosts?
Well, if any of these are true, then you belong on the Moab ModernJeeper Adventures, Memorial Day weekend, May 20-24, 2020. 
Last year we had a ball and everyone raved about the trail. See pics and vids from last year here.
You cannot go wrong signing up for any ModernJeeper Adventure.  Your fun is our mission.
Now about landuse and the Red Rock 4Wheelers…
Jeep Safari: The Jeep Safari was started in 1967 by the Moab Chamber of Commerce. The very 1st trail was "Behind the Rocks Trail" (according to what has been told to the club President, the road was made or improved with a BLM employee and equipment.)
The "Moab Rim" was then added the next year. In those days, individual ice cream packages were dropped by airplane to the trails at lunch. All the leaders were Chamber members, there was no charge or entry fee, and only a Saturday trail. To register you showed up Saturday morning and signed up for the trail you wanted. The Safari was run this way through 1982 at which point the BLM required a permit and insurance. The Chamber was no longer able to run the safari and approached the club to run this event.
In the meantime, 5 decades later, the club still runs the event and helps save trails in Moab.  They do that with the Multiple Use Defense Fund, the MUD Fund.
From the club website:
M.U.D. Fund Donation: The Red Rock 4-Wheelers work to reserve a little strength to keep our recreational trails open. To that end, we have been setting aside some funds for emergency use. We call it the Multiple Use Defense (MUD) Fund. When trail access or other multiple uses of the public lands are threatened, it is safe to say that the most important defense need is someone's time and effort.
It takes dedicated personal effort just to plan how to spend available money. The most serious threats are likely to call for professional services, often legal counsel and actions. What started out as selling MUD pins at registration has now become a major fundraising effort. The Red Rock 4-Wheelers have received donations from other 4 wheel clubs, many of our vendors at the expo show and BF Goodrich with its outstanding trail program. The Red Rock 4-Wheelers are committed to defend and repair the Jeep Safari trails for all of our loyal supporters to enjoy, but we need your help. Please consider directly supporting the M.U.D. Fund.
All of us on the ModernJeeper team appreciate all clubs that help keep trails open and our motorsports alive and well.  Thank you.
##
For more on getting involved in land use and keeping trails open, go here.