27
Fri
All-day
66th Annual Jeepers Jamboree @ 66th Annual Jeepers Jamboree
66th Annual Jeepers Jamboree
@ 66th Annual Jeepers Jamboree
Jul 27 all-day
4 Day or 3 Day option – Full guided and supported trip through the Rubicon Trail
La Wheelin For Warriors @ Catahoula Recreation Off Road Park
La Wheelin For Warriors
@ Catahoula Recreation Off Road Park
Jul 27 – Jul 28 all-day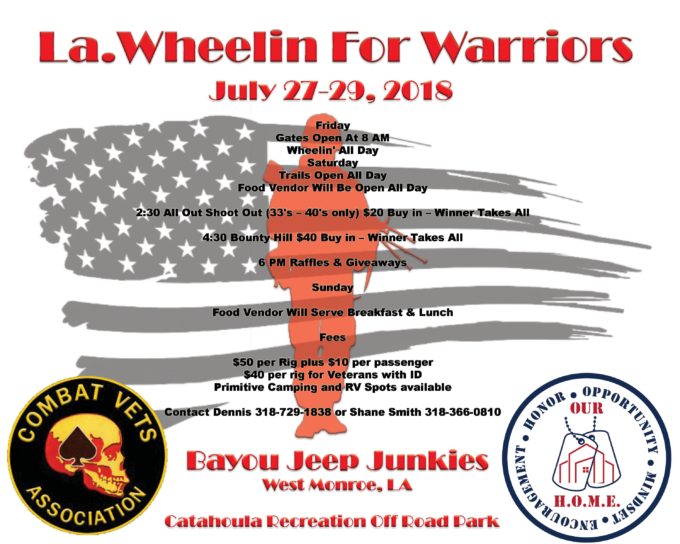 Bayou Jeep Junkies is putting on La. Wheelin For Warriors, an off road ride at Catahoula Recreation Off Road Park in Sicily Island, Louisiana to benefit Veterans in the North Louisiana area. All proceeds will be going to Our H.O.M.E. and to CVMA 6-5. La. Wheelin for Warriors will be...
Mars at Opposition
Mars at Opposition
Jul 27 all-day
What a night for stargazing! The Aquarids meteor shower will be nearly peaking… and while you're waiting for the total lunar eclipse, check out Mars: The red planet will be at its closest approach to Earth and its face will be fully illuminated by the Sun. It will be brighter...
11:24 am Total Lunar Eclipse
Total Lunar Eclipse
Jul 27 @ 11:24 am – 3:20 pm
A total lunar eclipse occurs when the Moon passes completely through the Earth's dark shadow, or umbra. During this type of eclipse, the Moon will gradually get darker and then take on a rusty or blood red color. The eclipse will be visible throughout most of Europe, Africa, western and...
1:20 pm ⚪ Full Moon