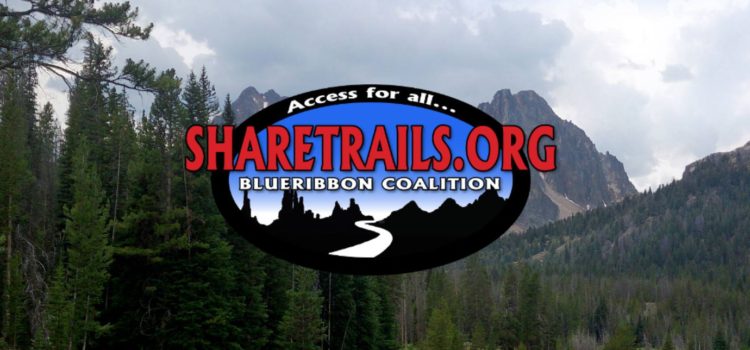 Update: this appointment was short-lived as the organization immediately faltered from past issues with the budget and fund-raising.  All land use career professionals were...
Update: this appointment was short-lived as the organization immediately faltered from past issues with the budget and fund-raising.  All land use career professionals were laid off in July 2018, leaving BRC/Sharetrails a shell organization.
The Editors
---
Purpose and Vision of Sharetrails/BlueRibbon Coalition
By Del Albright, Executive Director
Effective June 1, 2018 I was appointed interim Executive Director of Sharetrails/BlueRibbon Coalition (BRC) while our Board of Directors continues the long process of finding a permanent ED.  I will be at the helm for quite a while I suspect.  As a fellow Modern Jeeper, I wanted to share with you what Sharetrails/BRC is all about.
It seems appropriate to share with Modern Jeeper readers what BRC really is – and is not.  Sharetrails/BRC is the national grassroots champion organization fighting for responsible recreation; all trails, all sports.  We represent every modality you can think of, starting with jeepers, but also including sports like access to hunting, fishing, dirt biking, rock hounding, snowmobiling, dune sports, and more.
Having a national group like Sharetrails is critical to keeping our trails open and sports alive all the way down to the local level.  Because Sharetrails/BRC works with all groups, national, regional, state and local, we are viewed like an "umbrella" group, covering the country and providing unity in our voices.
Sharetrails/BRC, to me, is about freedom too.  When I came home from Vietnam in the 70's, I had learned firsthand what it was like to face losing your freedoms.  I served in South America as well, and many, many times I was with people who knew nothing of freedom – only oppression.  I vowed then to always fight for freedom!  BRC is the outfit that bests represent our struggles to maintain our backcountry freedoms at the national level.
With members in all 50 states, BRC is focused on building enthusiast involvement with organizational efforts through membership, participation in the administrative process, outreach, education and collaboration among recreationists. BRC works with land managers to provide recreation opportunities, preserve resources and promote cooperation with other public land users.
Officially, our Vision reads:
Sharetrails.Org/BlueRibbon Coalition (BRC) is the leading national coalition of organizations, businesses and individuals that:
Provides leadership in responsible use
Promotes balanced resource conservation
Is recognized by the general public, the media, and elected officials as the leader in promoting common sense and an equitable approach to recreation and access issues
We value common sense, ethics, tolerance, sharing access, cooperation and access for all.
BRC professional staff have commented on thousands of public documents affecting our jeeper access to trails.  We help clubs get involved locally with state and federal agencies to keep their trails available.  And without a doubt, Sharetrails/BRC has one of the best "alert systems" in the world for its members.  You pick the alerts you want to receive and for the states/areas you care about.
Now it is important to note that Sharetrails/BRC is not a lobby outfit.  In fact, when the IRS approved our 501.c.3 charity status decades ago, their rules are clear that we cannot spend your money lobbying – working for a particular political candidate or telling you who to vote for. BRC educates and advocates; but we leave lobbying to other organizations.
BRC goes to Washington DC and educates politicians on your access issues; your needs as a Modern Jeeper; and why responsible off-pavement recreation is so essential to the health and vitality of many Americans.  I think more doors are open because we are about education rather than lobbying.
BRC is recognized nationwide for its credible staff of land use and recreation professionals, as well as a legal team with 30 years of accomplishments.  In fact, we are the strongest legal contingent in the off-pavement/OHV world. When it comes time for court, Sharetrails/BRC is the one to call.
BlueRibbon Coalition/Sharetrails is saving trails and keeping the sport alive, but only with your help and membership, as well as involvement. We are the leaders of the team, but you are the team.  Join us and help me and the rest of the team keep our freedoms alive.
Learn more at https://sharetrails.org or call (208) 237-1008.